How To Build Trust With Your Brand
Jordan Wanted to Start a Business where he could work with his hands and do what he loves most – when things are slow in the insurance industry (his main job).
When he heard about the results I typically get, he called and asked, what packages do you offer and what would you charge to get me started?
I said to him, "my package is more what does my client really need – and how do I deliver that at a 10/10!"
$2,000 is a beginning figure, because a full-day will typically give me a good idea of what's needed to present a business well.
Many business owners probably won't – realize how rare it is for top ad professionals to present a business well, without spending weeks or even months of research and testing. 
When he gave me the go ahead – I reviewed dozens of similar construction businesses like his (to see what is working best in his area) to build on the best work others have done instead of starting completely fresh – which can often take weeks to months.
I always create my branding and messaging after I have a deep understanding of my audience. I ask questions like: Why would they hire me? What do they want? What problem do I solve? What's unique about what I do?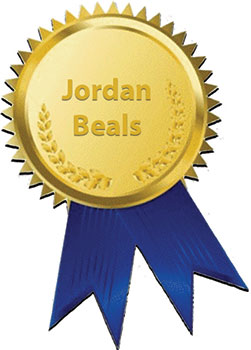 When I researched Jordan's industry I learned:
Wood decks are one of the best ways to increase the value of your home.

I learned the reason most want a Porch, Deck or Fence is because they really want a place to be with their friends.

I also learned the biggest challenge to handymen and contractors getting work is trust.
So, I gave him super-simple yet brilliant branding that says a lot more than the words to build trust with his audience…
I chose the color blue for the calming and trust feeling most have when they see it.
I added the Subliminal reference to the trusted Better Business Bureau with 3 similar B's on his logo.
Because he works with wood – I thought his logo should have a woodworking feel to it, so I added a Wood Grain to the hammer and a White Picket Fence.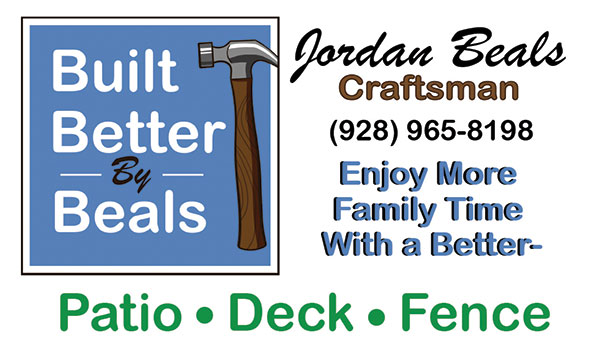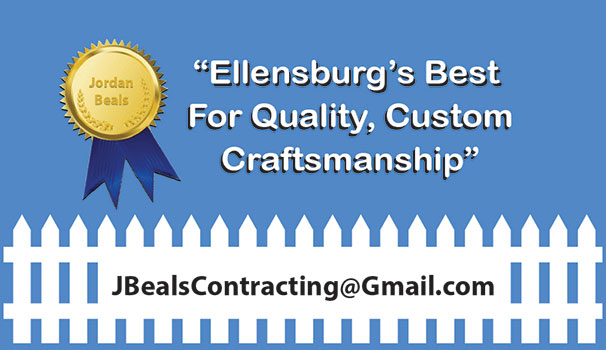 A Great Title "Craftsman"
Three Words That Say What You Do. "Patio – Deck – Fence"
An Awesome Business & Website Name (BuiltBetterbyBeals.com)

Business Logo and Graphic with a nice subliminal reference to the BBB.
(Created in Adobe Illustrator so it can be quickly resized)
Business Sign for visibility. (Yard Signs are absolutely needed for every project you are working on to get you word of mouth business)

Door Hangers that are easy to read and remind your client how you bring families together is one of the best ways to get new business. (Combine this with your well-crafted Door to Door Sales Pitch)

I'm Here to Save Your Family BBQ With a Better Porch, Deck and Fence!

If I can Be Helpful With a Custom Porch, Deck or Fence Give Me a Call
928-965-8198 Your Friend, Jordan Beals
A Porch is a fun place to Sit, Swing and Chat with your Friends!

A Deck is the Perfect Place to Hold your Family Barbecue!

A Fence gives you Extra Protection and Privacy to Keep Your Children Safe!

Business Card front design with Logo and your "Real Benefit" Clearly Stated
("Enjoy More Family Time with a Better – Patio – Deck – Fence")
Business Card back design with Illustrator Graphics
 (Blue Ribbon and Fence with the word "Best" added with other high value words
Like "Ellensburg's Best For Quality, Custom, Craftsmanship")
A Memorable Slogan for Everyone You Meet "Saving Your Family Barbecue with a Built Better by Beals – Patio, Deck and Fence."

 (Several shortened versions of this would also work great!)
For Example: If someone asks what you do and you want to be more memorable -have fun with it and say, "I'm a part time superhero. I'm saving a great American Tradition – the family barbecue by building better – Patios, Decks and Fences." 
You are much more likely to get business if you will answer this way!
To Start With – Jordan got an effective business name, website domain, title, description, hammer image, logo, business card, slogan and yard sign, to make his clients go, "Wow!"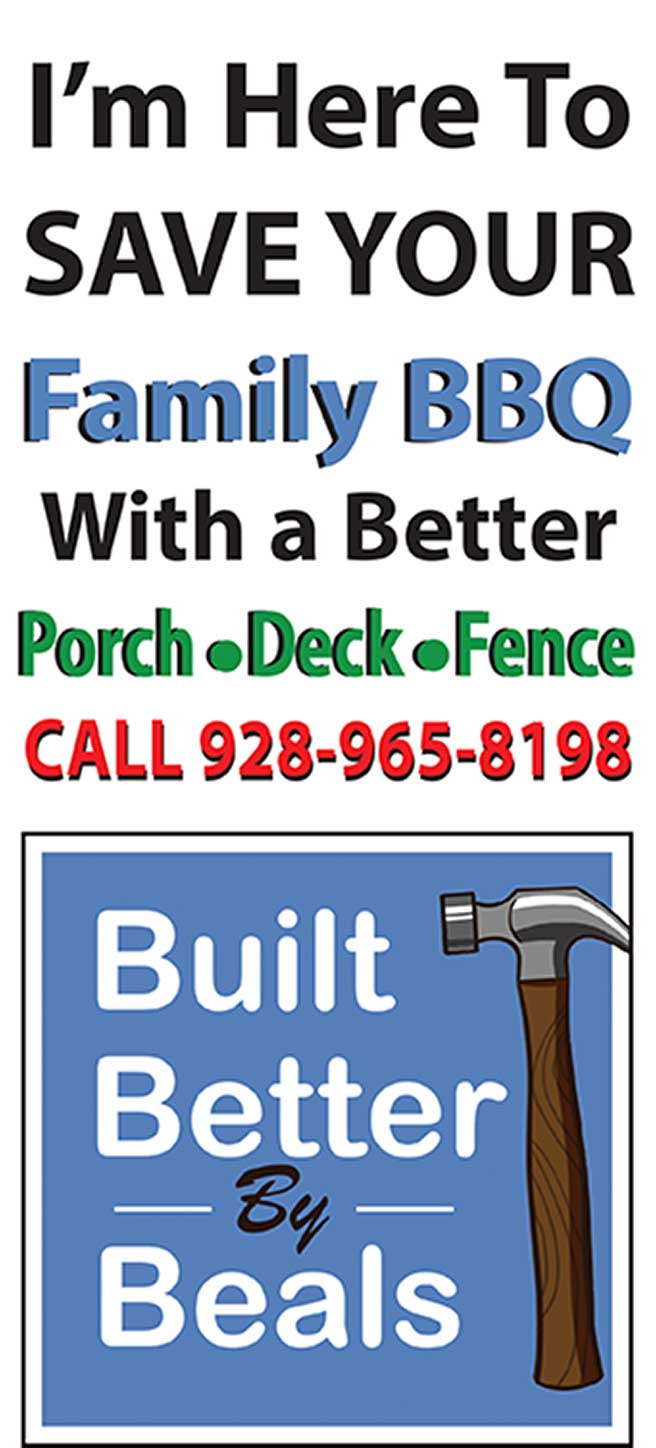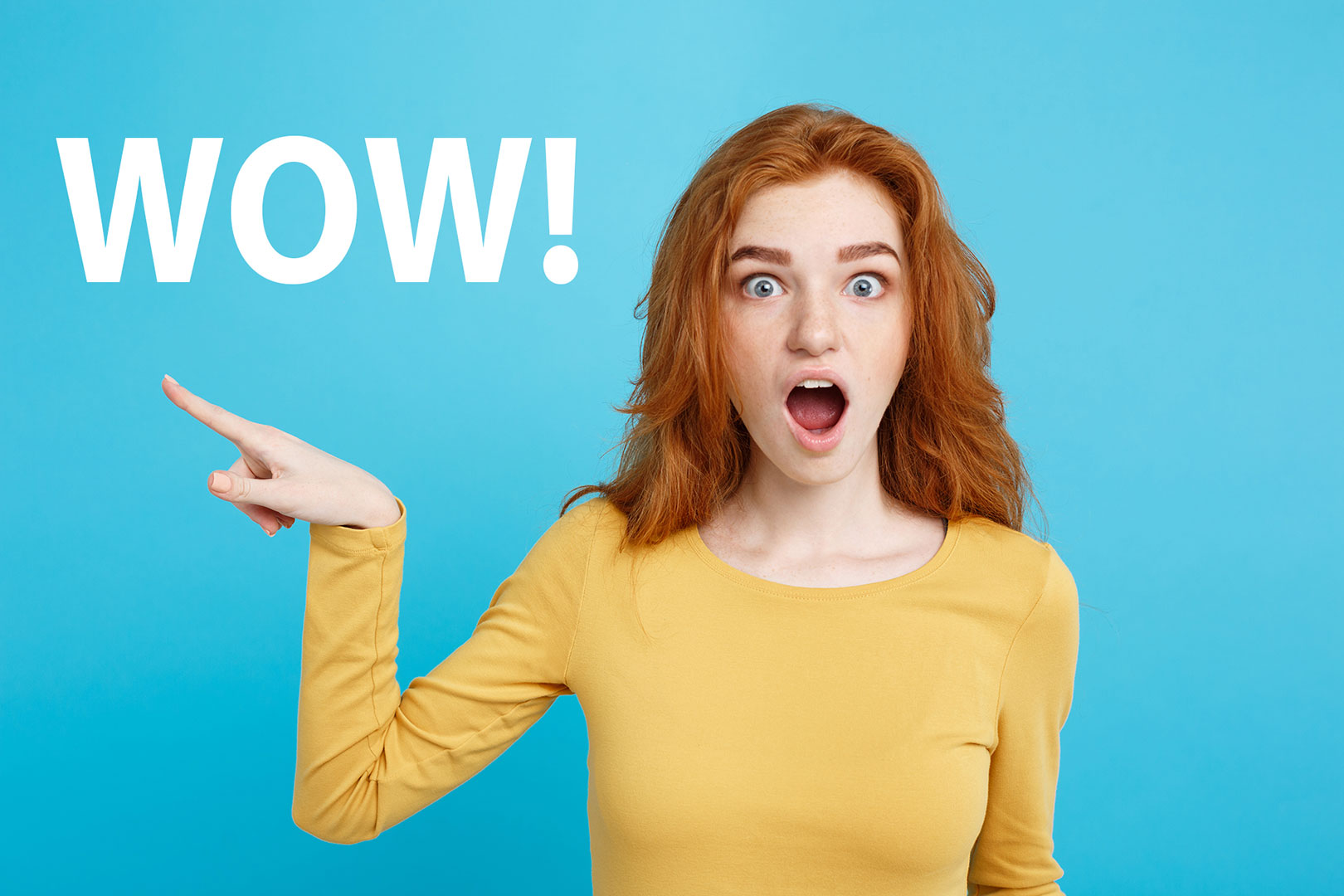 When he is ready for more – I recommend several additional services:
Social Media Profiles and posts on Yelp & Thumbtack. Possibly Facebook, Instagram, YouTube and Google ads?

Elevator Sales Pitch for Business & Social Meetup Groups. (this is super fun)

Website is super helpful to direct your leads to. (It is a huge credibility builder with top messaging.)

Photos of you with your completed projects for your awesome website, door hangers and mailers $500-$2500 per session.

Postcard Mailers. My commercial price is about $.46 per mailer delivered.

SEO to get your website ranked in the top 4 choices $500-$2500 monthly.
Whatever your funds – there's a best way to get results with messaging.
If a project is in the best interest of my client and community – I'm available for almost anything related to messaging and marketing.