How do you give your business an edge in this seemingly unpredictable market – as a CEO and business owner?
We've seen firsthand how shutdowns broke the supply chain, caused more inflation and political instability as several hundred thousand businesses were forced to close down forever.
Perhaps, now more than ever – you are looking for ways to bring extra revenue into your business.
𝗜𝗳 𝘀𝗼 𝗸𝗲𝗲𝗽 𝗿𝗲𝗮𝗱𝗶𝗻𝗴 – 𝗯𝗲𝗰𝗮𝘂𝘀𝗲 𝗗𝗶𝗿𝗲𝗰𝘁 𝗠𝗮𝗶𝗹 𝗺𝗶𝗴𝗵𝘁 𝗯𝗲 𝘁𝗵𝗲 𝗮𝗻𝘀𝘄𝗲𝗿 𝘆𝗼𝘂'𝘃𝗲 𝗯𝗲𝗲𝗻 𝗹𝗼𝗼𝗸𝗶𝗻𝗴 𝗳𝗼𝗿.
Before we get to that, I'd like to share how I got started in advertising.
I was enrolled in lots of classes to learn advertising and digital marketing in the 1990s and all the students I knew seemed excited  – about the marketing potential of the Internet…
Me and two of the instructors at the school decided we should team up to build websites with an interactive video for our clients…
Because it looked like a great way to promote products online.
Yet, some were skeptical…
When my team and I pitched a major car dealership about building them a website where potential clients could test drive his cars with an interactive video, the owner said –
"The Internet's just a fad."
We've come a long way since then, and now most agree that –
The Internet is here to stay!
I remember when big companies (like Agora Financial) made boatloads of money by sending emails –
Because they got in when email marketing was the new trend.
And when it was the new thing – getting an email from a friend and family member in your inbox was novel and exciting.
Well, times are changing.
Your audience is overwhelmed with ads…
And online advertising isn't as cheap as it used to be…
𝐖𝐡𝐢𝐥𝐞 𝐞𝐦𝐚𝐢𝐥 𝐦𝐚𝐫𝐤𝐞𝐭𝐢𝐧𝐠 𝐢𝐬 𝐭𝐡𝐞 𝐥𝐞𝐚𝐬𝐭 𝐞𝐱𝐩𝐞𝐧𝐬𝐢𝐯𝐞 𝐰𝐚𝐲 𝐭𝐨 𝐠𝐞𝐭 𝐲𝐨𝐮𝐫 𝐩𝐫𝐨𝐝𝐮𝐜𝐭 𝐬𝐞𝐞𝐧 (𝐛𝐞𝐜𝐚𝐮𝐬𝐞 𝐢𝐭 𝐜𝐚𝐧 𝐠𝐢𝐯𝐞 𝐲𝐨𝐮 𝐚 𝟐𝟗𝐗 𝐫𝐞𝐭𝐮𝐫𝐧 𝐟𝐨𝐫 𝐞𝐯𝐞𝐫𝐲 𝐝𝐨𝐥𝐥𝐚𝐫 𝐲𝐨𝐮 𝐬𝐩𝐞𝐧𝐝 𝐨𝐧 𝐲𝐨𝐮𝐫 𝐚𝐝𝐬.)
Depending On Your Product, Service and Promotion –
𝗗𝗶𝗿𝗲𝗰𝘁 𝗠𝗮𝗶𝗹 𝗰𝗮𝗻 𝘀𝘁𝗶𝗹𝗹 𝗴𝗶𝘃𝗲 𝘆𝗼𝘂 𝘁𝗵𝗲 𝗯𝗲𝘀𝘁 𝗿𝗲𝘀𝘂𝗹𝘁𝘀 𝗳𝗼𝗿 𝘆𝗼𝘂𝗿 𝗺𝗮𝗿𝗸𝗲𝘁𝗶𝗻𝗴 𝗺𝗼𝗻𝗲𝘆.
𝐈'𝐥𝐥 𝐠𝐢𝐯𝐞 𝐲𝐨𝐮 𝟑 𝐫𝐞𝐚𝐬𝐨𝐧𝐬 𝐰𝐡𝐲:
Direct Mail Gets More Responses (than other marketing strategies)
Direct Mail Is Easier to Track Than Ever Before
Sending A Printed Letter Can Strengthen the Results of Your Digital Ad Campaigns
𝗗𝗶𝗿𝗲𝗰𝘁 𝗠𝗮𝗶𝗹 𝗚𝗲𝘁𝘀 𝘁𝗵𝗲 𝗠𝗼𝘀𝘁 𝗥𝗲𝘀𝗽𝗼𝗻𝘀𝗲𝘀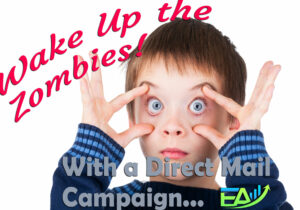 Direct Mail Gets MORE Attention than any other kind of direct response marketing campaign.
Your audience is overwhelmed with ads –
They have what I call ADHD:  Ad Desensitization & Hyperactivity Disorder.
Like zombies, with glazed-over eyes, they scroll past 99% of what shows up on their screen…
Because they are used to seeing 5,000 ads every day…
(And then skimming hundreds of emails in their inbox)
Research says your audience will only spend about a second reviewing each ad online…
Yet, they'll spend about 40 seconds reading an unaddressed letter.
One reason for this is – there aren't any other ads competing with yours…
When they hold your letter in their hands.
𝗧𝗵𝗶𝘀 𝗘𝘅𝘁𝗿𝗮 𝗧𝗶𝗺𝗲 𝘄𝗶𝘁𝗵 𝗬𝗼𝘂𝗿 𝗠𝗮𝗶𝗹𝗲𝗿 𝗠𝗲𝗮𝗻𝘀 𝗠𝗼𝗿𝗲 𝗕𝘂𝘆𝘀 –
𝗔𝗻𝗱 𝗜𝘁'𝘀 𝗛𝗼𝘄 𝗗𝗶𝗿𝗲𝗰𝘁 𝗠𝗮𝗶𝗹 𝗚𝗲𝘁𝘀 𝟯𝟬𝗫 𝘁𝗵𝗲 𝗥𝗲𝘀𝗽𝗼𝗻𝘀𝗲 𝗥𝗮𝘁𝗲 𝗼𝗳 𝗘𝗺𝗮𝗶𝗹𝘀.
As an extra bonus –
A physical sales letter can also increase your credibility.
Because the more senses you stimulate with your message, (eyes, ears, nose, taste, hands…) the more likely your audience is going to connect with your message…
And the more they connect with your message, the more likely they are to buy what you offer them…
Direct Mail reaches one sense, no other marketing method can –
The sense of touch.
Giving you what Steve Forbes has called –
It's credibility only a physical connection with your message can give you.
This is why it's important to print thick and hefty business cards.
Because it shows you are solid and not flimsy.
So, if you've been wondering how to wake up your zombie audience and get them excited about your ads –
Consider sending a new sales letter to them in the mail.
𝗚𝘂𝗲𝘀𝘀 𝗪𝗵𝗼 𝗟𝗼𝘃𝗲𝘀 𝗚𝗲𝘁𝘁𝗶𝗻𝗴 𝗠𝗮𝗶𝗹?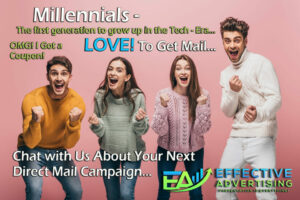 Have you wondered how to market to the next generation?
Because marketing to Millennials will be very different than how you've been marketing to Boomers…
And as Boomers get older, they won't be the main shoppers anymore…
(Sorry, Gen-X, we're just going to skip over you, since everyone else does, too)
Yet, Millennials are the first generation to grow up in the Tech Era…
The first to grow up with social media, technology, and ads, right at their fingertips…
And Guess what?
Millennials LOVE to get mail!
They love getting coupons…
90% say they'd rather get a postcard in the mail than an email in their inbox.
Yup!  Just like 90s fashion is back in vogue –
Getting mail is the new email.
So if you want to get the attention of a Millennial, it may be a good idea to reach them with a Direct Mail Campaign.
𝗗𝗶𝗿𝗲𝗰𝘁 𝗠𝗮𝗶𝗹 𝗜𝘀 𝗘𝗮𝘀𝗶𝗲𝗿 𝘁𝗼 𝗧𝗿𝗮𝗰𝗸 𝗧𝗵𝗮𝗻 𝗘𝘃𝗲𝗿 𝗕𝗲𝗳𝗼𝗿𝗲
Even the US Postal Service will track your delivery.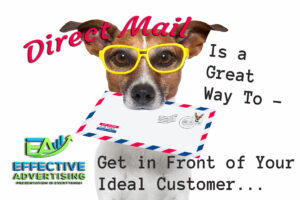 And there's new technology to improve your open rates, too…
There are robots to write on your envelope, so your sales letter looks like a handwritten letter from a friend –
Not surprisingly, this approach can give you a 99.1% open rate! 
With technology, you can also follow your audience as they:
Visit your website
Call a custom number
Or enter coupon codes
Making it easier to see and measure your campaign results.
And in case you're wondering –
𝗪𝗵𝗮𝘁 𝗯𝘂𝘀𝗶𝗻𝗲𝘀𝘀𝗲𝘀 𝗺𝗮𝗸𝗲 𝘁𝗵𝗲 𝗺𝗼𝘀𝘁 𝗺𝗼𝗻𝗲𝘆 𝘄𝗶𝘁𝗵 𝗮 𝗱𝗶𝗿𝗲𝗰𝘁 𝗺𝗮𝗶𝗹 𝗰𝗮𝗺𝗽𝗮𝗶𝗴𝗻?
 As a General Guideline…
𝗧𝗵𝗲𝘀𝗲 𝟭𝟬 𝗜𝗻𝗱𝘂𝘀𝘁𝗿𝗶𝗲𝘀 𝗚𝗲𝘁 𝗘𝘅𝗰𝗲𝗹𝗹𝗲𝗻𝘁 𝗥𝗲𝘁𝘂𝗿𝗻𝘀 𝘄𝗶𝘁𝗵 𝗙𝗹𝘆𝗲𝗿𝘀 𝗮𝗻𝗱 𝗠𝗮𝗶𝗹𝗲𝗿𝘀:
Real Estate Brokers & Agents
Car Dealerships & Mechanics
Marketing & Advertising Agencies
Universities, Colleges & Schools
Non-Profits, Charities and Political Campaigns
Medical Offices, Dental, Chiropractor, Massage
Installation Companies, Solar, Windows, Roofing
Home Services, Handyman, Repair, Cleaning, Lawncare, Pools & Spas
Education and Events, Gymnastics, Ballet Schools, Martial Arts
Any Retail Business with Coupons!
𝗙𝗼𝗿 𝗼𝘁𝗵𝗲𝗿𝘀, 𝗮 𝗱𝗶𝗿𝗲𝗰𝘁 𝗺𝗮𝗶𝗹 𝗰𝗮𝗺𝗽𝗮𝗶𝗴𝗻 𝗺𝗮𝘆 𝗯𝗲 𝗴𝗿𝗲𝗮𝘁 𝗳𝗼𝗿 𝘀𝗽𝗲𝗰𝗶𝗳𝗶𝗰 𝗽𝗿𝗼𝗺𝗼𝘁𝗶𝗼𝗻𝘀:
A Grand Opening or Special Event
Introducing a New Product Line
Giving a Coupon to Reward Loyal Customers
Inviting Loyal Customers to Invite Their Friends
Special Occasions: (like holiday coupons, or right before tax time – if you're an accountant)
So, adding Direct Mail is a great way to optimize your marketing strategy and really grow your business.
𝗦𝗲𝗻𝗱𝗶𝗻𝗴 𝗔 𝗟𝗲𝘁𝘁𝗲𝗿 𝗖𝗮𝗻 𝗥𝗲𝗮𝗹𝗹𝘆 𝗦𝘁𝗿𝗲𝗻𝗴𝘁𝗵𝗲𝗻 𝘁𝗵𝗲 𝗥𝗲𝘀𝘂𝗹𝘁𝘀 𝗼𝗳 𝗬𝗼𝘂𝗿 𝗗𝗶𝗴𝗶𝘁𝗮𝗹 𝗔𝗱 𝗖𝗮𝗺𝗽𝗮𝗶𝗴𝗻
Want to get even more mileage out of your ad campaigns?  Here are 3 ways to combine direct mail with digital marketing:
#1 – Run a Display Ad To Retarget the Same Audience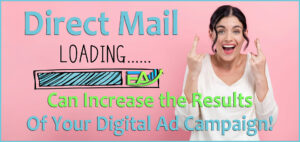 #2 – Run Facebook Ads To Retarget Your Same Audience
#3 – Follow Up With an Email, So Your Brand Comes First to Mind
With the same targeting information you have for your direct mail campaign, you can match your campaign and run ads simultaneously, or follow up with them with email or social media, or use a direct mail piece to increase the results of your ad campaign…
This is a great way to stay at the forefront of your audience's mind…
And give them even more time to choose your offer.
𝗜𝘀 𝗗𝗶𝗿𝗲𝗰𝘁 𝗠𝗮𝗶𝗹 𝗠𝗢𝗥𝗘 𝗔𝗳𝗳𝗼𝗿𝗱𝗮𝗯𝗹𝗲 𝘁𝗵𝗮𝗻 𝗢𝗻𝗹𝗶𝗻𝗲 𝗠𝗮𝗿𝗸𝗲𝘁𝗶𝗻𝗴?
When shopping for pricing, keep in mind each mailer is made up of 4 things:
Copy
Design
Print
Delivery
And sometimes you don't even need the design…
(𝗞𝗲𝗲𝗽 𝗶𝗻 𝗺𝗶𝗻𝗱 – 𝘁𝗵𝗲 𝗯𝗲𝘀𝘁 𝗿𝗲𝘀𝘂𝗹𝘁𝘀 𝗜'𝘃𝗲 𝗯𝗲𝗲𝗻 𝗮𝗯𝗹𝗲 𝘁𝗼 𝗴𝗲𝘁 𝘄𝗲𝗿𝗲 𝗳𝗿𝗼𝗺 𝗮 𝘁𝘆𝗽𝗲𝗱 𝗮𝗻𝗱 𝘀𝗶𝗴𝗻𝗲𝗱 𝗹𝗲𝘁𝘁𝗲𝗿 𝘄𝗲 𝗽𝘂𝘁 𝗶𝗻 𝗮 𝗵𝗮𝗻𝗱𝘄𝗿𝗶𝘁𝘁𝗲𝗻 𝗲𝗻𝘃𝗲𝗹𝗼𝗽𝗲)
So with these 4 variables, you can spend anywhere from 32 cents to 10 dollars on every letter you send, that's up to you…
Now, some might think 10 dollars is a lot for a lead, yet many industries are charging ten to three hundred dollars per lead online.
Yet because print typically gets a much higher response rate, your return may be worth every penny.
If your next Direct Mailer doubles the number of your clients in 30 days, would it be worth spending 10 dollars or even 300 dollars per letter?
𝗕𝗲𝗰𝗮𝘂𝘀𝗲 𝗜 𝗡𝗲𝗮𝗿𝗹𝘆 𝗗𝗼𝘂𝗯𝗹𝗲𝗱 𝗔 𝗕𝘂𝘀𝗶𝗻𝗲𝘀𝘀 – 𝗪𝗶𝘁𝗵 𝗔 𝗦𝗶𝗻𝗴𝗹𝗲 𝗟𝗲𝘁𝘁𝗲𝗿!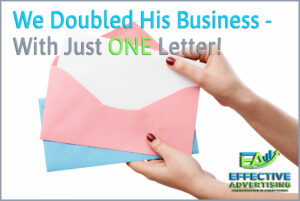 You could see the fear on his face when he said, "Someone broke into my car and stole my laptop. I think I'm going out of business. I don't know what to do?"
He was a corporate tax accountant, and I overheard the conversation.
As an advertising professional, I knew just what to do…
I said I could help and asked him to go to his office and gather up every address of every client he could find…
He came up with 200 addresses, and what happened next was amazing!
I helped him craft his story with an irresistible offer –
For every 100 letters we mailed –
He got 86 NEW clients!
What did I say in his letter?
𝗜 𝘀𝗲𝗻𝘁 𝗮 𝗿𝗲𝗺𝗶𝗻𝗱𝗲𝗿:
1) tax season is coming
2) how well have I taken care of you
3) offered a special gift for any referrals
Getting NEW clients for him was easy as 1-2-3.
𝗣.𝗦. If you found this article helpful –
Let's chat about what I might be able to do for you.
Because I think it would be a fun challenge to double your business with a letter.
If you are open to the idea and you want to give it a shot.
Send me a note…
I'll make it a special priority.
𝗣.𝗦.𝗦. If you'd like to learn more about this (so you can write this up yourself or you are thinking about hiring me to do it for you).
𝗜 𝗰𝗮𝗻 𝘀𝗲𝗻𝗱 𝘆𝗼𝘂 𝗼𝘃𝗲𝗿 𝘁𝗵𝗲 𝗙𝗥𝗘𝗘 𝗣𝗗𝗙 𝗜 𝗮𝗺 𝘄𝗼𝗿𝗸𝗶𝗻𝗴 𝗼𝗻.